The Veal Cream Sauce Philosophy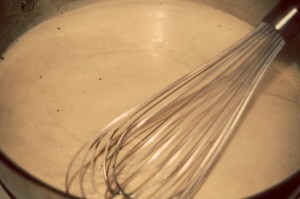 The Boy here with another installment of And Now For Something Completely Different where we're focusing on veal stock. Tonight we're making a fairly simple cream sauce that works well on pretty much anything, but it's more of a…. philosophy than a recipe. We like to use it on chicken and pasta, but it would be good with something mild like fish and pretty much anything starchy.
We're going to start with some sautéed chicken (or fish, or turkey, etc). We'll post a recipe for Chicken Provençal pretty soon, but just basic chicken breast seasoned with salt and pepper sautéed in about 2 tbsp of butter will do quite nicely. Just after you get the chicken done and you have all those amazing little brown bits just begging to turn into a sauce. So that's what we're going to do.
Let's start with two cups of veal stock. Just pour it in and scrape up the little bits with a whisk or metal spatula. Let that bubble away and reduce for about 2 minutes on medium to medium-high heat. Next up we're going to pour in 1/2 a cup of heavy cream.
Hey? Where are you going? I said it'd be good, not healthy. Good. You can eat a salad or something with it.
So, we've added the cream and the sauce is pretty close to awesome. Lower the heat–for fear of having the cream de-nature and break apart (that'd be gross)–to medium or medium-low and let it bubble away for another minute.
Here's where you need to make some decisions. If you plan on using it as a thin dipping sauce, like an au jus sort of consistency, then just skip this step. If you, like we, plan to make it a fairly thick sauce for pasta and chicken, then we need to thicken it up. The easiest way to do this is to make a slurry by mixing 2 teaspoons of corn starch and 2 teaspoons of water in a small bowl or cup and mix it all together. This stuff will thicken any hot thing you pour it into very, very quickly. It's like magic. Seriously, it's pretty fun to watch.
Now you've got your perfectly thickened–or maybe still thin–sauce and it's just about done. Grab yourself a clean spoon and give the sauce a taste. Mine needed about a teaspoon of salt and a pinch of pepper. You also want to put something in here to tie it with your main dish; we used some herbes de provence and freshly grated nutmeg. But we've also used cajun spices, Italian seasonings and, well, I bet anything would probably work pretty well.
The sauce we just made is really tasty. It's got a deep flavor with a velvety kind of feel to it; it also has enough body to stick to pasta but thin enough to keep from being a stew. Give it a try, and I promise, you'll be hooked.
Veal Cream Sauce with Herbes de Provence
1 Pan full of little brown (not black) bits after cooking chicken
2 cups veal stock
1/2 cup heavy cream
2 tsp corn starch
2 tsp water
1/4 tsp herbes de provence
salt and pepper to taste
After sautéing some chicken, quickly deglaze with 2 cups of veal stock being sure to scrape up all the little brown bits. Bring to a boil over medium-high heat and allow to reduce for approximately 2 minutes. Add 1/2 cup of heavy cream and lower heat to medium and allow to simmer for a minute or two, stirring occasionally. Meanwhile, mix 2 tsp of corn starch with 2 tsp of water in a small bowl. Add the slurry to the pot and continue to stir until the sauce is all the same consistency. Simmer for another minute. Add 1/4 tsp of herbes de provence and season with salt and pepper to taste. Finally, add just the tiniest pinch of freshly grated nutmeg at the end.